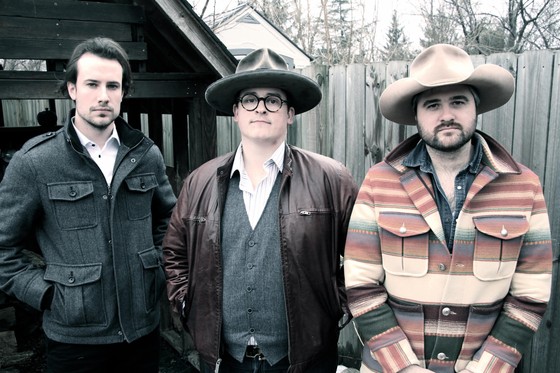 Artist: ChessBoxer
Hometown: Nashville, TN
Song: "Calon Lan"
Album: Apollo EP
Release Date: September 25

In Their Words: "ChessBoxer is the musical outlet we've wanted to pursue for a very long time, an expression of the interests and experiences we've had together as a group and separately with other artists. The material we've composed for the new full-length album (produced by Charlie Peacock) is very personal -- the intention being to create songs that mean different things to each listener after each listen. Because of our tour with Warren Haynes starting in September, what better way to share some of the pieces we've written for the album than to release the Apollo EP. 'Calon Lan' is an old Welsh hymn that means 'pure heart,' a simple title that moved us to interpret the melody and then depart from it." -- Ross Holmes
Instructions: Listen with clear eyes and you'll have a full heart.
Tour Dates with Warren Haynes
Sep. 22 // Uptown Theatre in Kansas City, MO
Sep. 23 // Murat Theatre in Indianapolis, IN
Sep. 25 // The Pageant in St. Louis, MO
Sep. 24 // LC Pavilion in Columbus, OH
Sep. 26 // Riviera Theatre in Chicago, IL
Sep. 29 // Fillmore in Detroit, MI
Sep. 30 // Stage AE in Pittsburg, PA
Oct. 1 // Capitol Theatre in Port Chester, NY
Oct. 2 // Tower Theatre in Philadelphia, PA
Oct. 3 // State Theatre in Portland, ME
Oct. 6 // Orpheum Theatre in Boston, MA
Oct. 7 // The Space in Westbury, NY
Oct. 8 // Warner Theatre in Washington, DC
Oct. 10 // Tabernacle in Atlanta, GA
Oct. 13 // Ryman Auditorium in Nashville, TN
Oct. 20 // Charleston Music Hall in Charleston, SC
Oct. 22 // Fillmore, Miami, FL
Oct. 23 // Jannus Live in St. Petersburg, FL
Oct. 24 // Plaza Live in Orlando, FL
---
Photo by Neal Dahlgren